Oyonale - 3D art and graphic experiments
The call of the wild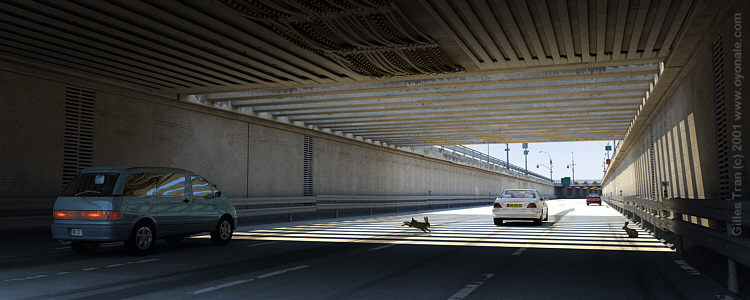 Artwork created in 2001
Renderer: POV-Ray
The highway circling Paris, known as "the Periph", has many underpasses, some of them covered with series of transversal concrete beams that create stroboscopic effects when the sun is bright. This inspired this image, which is also an experiment in realistic radiosity. The textures are procedural mixtures of image maps, nested combinations of function, crackle solid and gradient patterns. Some of the images were taken from Jonathan Engleman's collections, others I made myself (see the collection here). The car models are from De Espona bought at Turbosquid.
Note to Povray users: these 3D studio models convert well with 3DWin, but take a lot of time to texture as the part names are not obvious. I ended up using Amapi to identify each part. The models are quite big too once converted (15-30 Mb each). Of course they're highly detailed and perfect for realistic pictures.
Other objects were created by usual CSG. The lamp and sign posts were taken from the Wet Bird. The rabbit model is the Poser cat with the Cat O' 9 Lives hare morph applied. I created the fur texture out of rabbit photographs found on the net.
There are two versions of this image, one with the sun coming from the right and one with the sun coming from the left.