Oyonale - 3D art and graphic experiments
Danseurs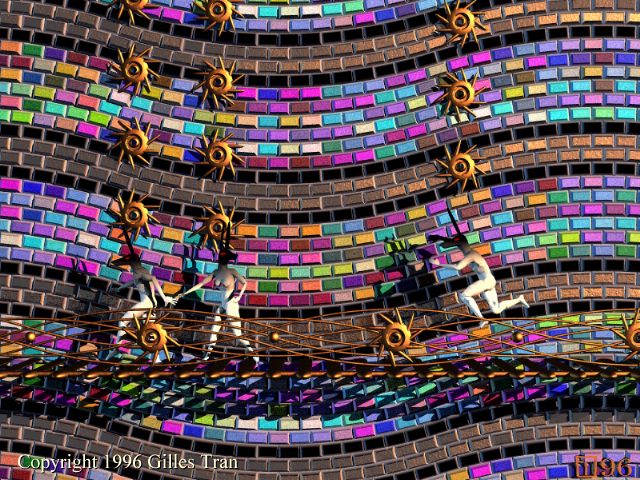 Artwork created in 1996
Renderer: POV-Ray
The tiles are 3D objects, individually textured with a function that randomly associates a colour to the <x,y> position of the tile.
The Poser characters' human heads were changed for an Anubis-like head made of a blob object. Actually, the characters look like the Anubis drawn by French illustrator Enki Bilal in his graphic novel "La Foire aux Immortels" (translated in English as "Gods in Chaos" in 1983).
The nipples of the female character are small flat spheres.
The "story" is a parody of the "movie reviews for parents" as provided by Screen It ! The people at Screen It! establish, for every important movie released in the US, the list of the potentially offensive, disrespectful or morally condemnable words, attitudes and situations it contains. It is a lot of fun to read, particularly when the reviews detail what can or cannot be seen in sex scenes, or when the villain's plot to rule the Earth is considered as a truly nasty case of bad attitude. However, the people who run Screen It are not the moralising crackpots you'd expect : they really love (and know) movies, and the reviews are very good indeed. The general tone is actually tongue-in-cheek.