Oyonale - 3D art and graphic experiments
The construction workers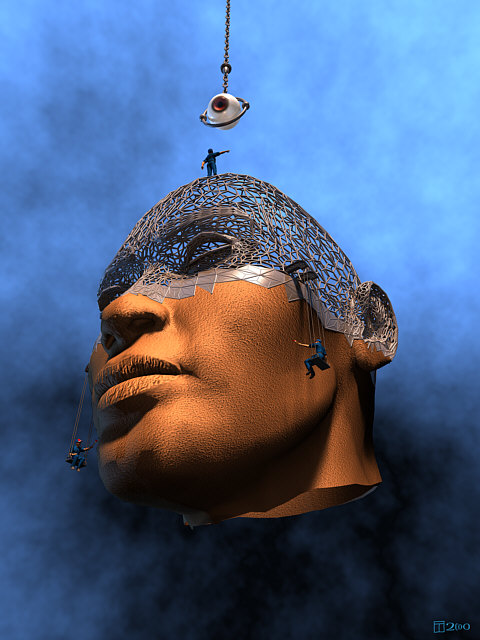 Artwork created in 1999
Renderer: POV-Ray
A first version of this image was made in a few minutes for the celebration of Ken Tyler's birthday. The inspiration came from one of Mr Tyler's pictures, and from a picture by Lance Birch (look in the gallery section of Lance's web site, The Zone). The picture was later refined for the Book of Beginnings.
The face is a Poser 4 mesh. It was converted to the PCM format with Warp's Mesh Compressor and then cut in half so that the top and bottom parts could be processed separately. The bottom part is a mesh, while the top part vertices were used to created the wire structure.
The skin texture was created in several steps. First, the bottom part of the face was fed to UVMapper to obtain a UV map and create the UV coordinates. The resulting bitmap was used as a templace for the image_map and the bump_map. Particularly, the skin pores were created by spraying noise on the bump_map in Picture Publisher.
The painters are Poser characters.
The eye was obtained using one of SamuelT's wonderful bits of POV-Ray code.