Oyonale - 3D art and graphic experiments
The field (2001)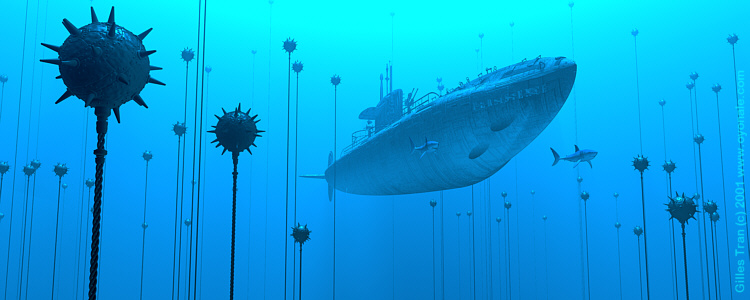 Artwork created in 2001
Renderer: POV-Ray
A first version of this image, inspired by a WWII black and white photograph, was made for the IRTC "Sea" round. It was a complete rewrite of one of my first POV-Ray images. I did it very quickly, and, as it was decidedly not an award-winning picture, I submitted it under the silly pseudonym of Gérard Mansoif, a fitting name for a water image. I had more or less forgotten about it until I started working on the 2001 update of Oyonale, so I spent a few hours more on it, taking into account some of the comments written by the IRTC voters.
I changed the colours and the camera location and added two Poser sharks. I guess it makes the image less static.
The ship is a big blob (actually 8 blob pieces) with foreign CSG material added.
The mines are isosurfaces + CSG.
The environment is scattering media.
The chain link is made with a macro by Rob Antonishen.
A simplified version is available in the official POV-Ray distribution.