Reach for the stars: the story that never was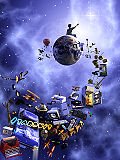 In 2002, I was invited by Chris Cason, the leader of the
POV-Ray
development team, to work on a very special project: the creation of a computer-generated image that would be rendered on board of the International Space Station. With fellow POV-Ray artist
Jaime Vives Piqueres
, we designed the image according to a drastic set of specifications, then the image script and 3D models were sent to internet entrepreneur and astronaut Mark Shuttleworth (who would create the Ubuntu Linux distribution two years later) who loaded it on a laptop, turned it into a big-size image while floating in zero-gravity, and came back to Earth.
The entire story is told here
and there's not much more to say about the image itself.
The strangest thing, however, is that we completely failed to make that story interesting to other people. We naively believed that the concept of two (unknown) geeks managing to smuggle artwork on the ISS thanks to a "space tourist" was, if not newsworthy, at least cool enough for people to notice it, particularly in the computer graphics and open source communities. The simple fact that Chris Cason had to modify POV-Ray to accommodate zero-gravity was an interesting tidbit: how many popular software, let alone open source popular software, include special code to go to space. And of course this image remains the first one rendered in orbit.
Some folks did like the story: Zazzle, the poster company,
created a special page
for it. There's a page about the image in the
Polish Wikipedia
and once in a while a teacher wants to use the image for a school project. But otherwise, the story was lost in the flow. We submitted it several times to Slashdot, the popular "news for nerds" website that caters to open source enthusiasts, to no avail. DAZ, the company that had created the child model used in the picture, turned us down because they believed that our story was critical of the model (it wasn't). I posted it to a forum dedicated to space flight and astronomy news: no answer. I wrote to people who had a special interest in space-related artwork: no answer. Outside the POV-Ray community, where a few people at least reacted to it, the story fell completely flat and wasn't picked up: it made a brief appearance in a French CG website, and, some years later, it resurfaced in a couple of posts in the Ubuntu forums when people discovered it in Mark Shuttleworth's resume, but by far and large our story was ignored by bloggers and on-line forums.
Now there are many reasons for the failure. The timing was terrible because we couldn't use the short window that was the space flight itself: the laptop with the image on it came back months later, once the flight was completely forgotten. Also, we didn't really push the story: we thought that it had legs, that it would run by itself and sort of snowball once released in the internet but, unlike the most braindead LOLCAT, it didn't. We could have spammed every open source, computer graphics, art or aerospace forum out there, but we had obvious ethical reasons for not doing so and forum users don't like being spammed in any case. Another reason is that space flights are no longer newsworthy: people don't care much about the space shuttle, the ISS or astronauts unless they end up in big fireballs. Another is that the whole concept of "rendering" a 3D image is lost on the immense majority of people who, rightfully, couldn't understand what had been done in the first place.
I don't have any regret of course. Mark got home safely, and while the image isn't the best computer rendering ever, we had fun doing it, it was an exciting project and it's still a good story to tell. It's just that we would have liked to share it with more people.
Labels: 3D